Q. I. Press Controls – EAE
The Siebold Company is the Authorized Agency of QIPC-EAE in the United States, the Carribean and Canada (QIPC-EAE Website)
May 30 ~June 2, 2019, Saddlebrook Conference Center, Wesley Chapel, FL  Please plan to stop by our exhibit next week during the 51st annual Metro Production Conference where will be demonstrating the latest press controls, registration and closed loop color control technology. Ronald Reedijk, Managing Director – QIPC-EAE Americas Ltd., will demonstrate how to improve print quality, and reduce overall production costs. Some of our customers have realized an ROI within 12 months!
Beau Campbell, Bob Hallstrom and Bruce Barna will also be available to answer your questions regarding all of the other press products, parts, and services we offer. READ MORE
The Siebold Company, Inc. (TSC) is the Q.I. PRESS CONTROLS – EAE authorized distribution agency for the USA, Canada and the English speaking Caribbean Islands.
Ahrensburg, May 2019 – The Siebold Company (TSC) is the authorized agency of QIPC-EAE in the United States, the Caribbean and Canada. The Dutch specialist for color control and registration equipment for the printing industry praises the technical knowledge of the new partner. TSC in turn is full of praise for QIPC's state-of-the-art and register control systems and EAE's press control systems. Read More From the QIPC-EAE News Release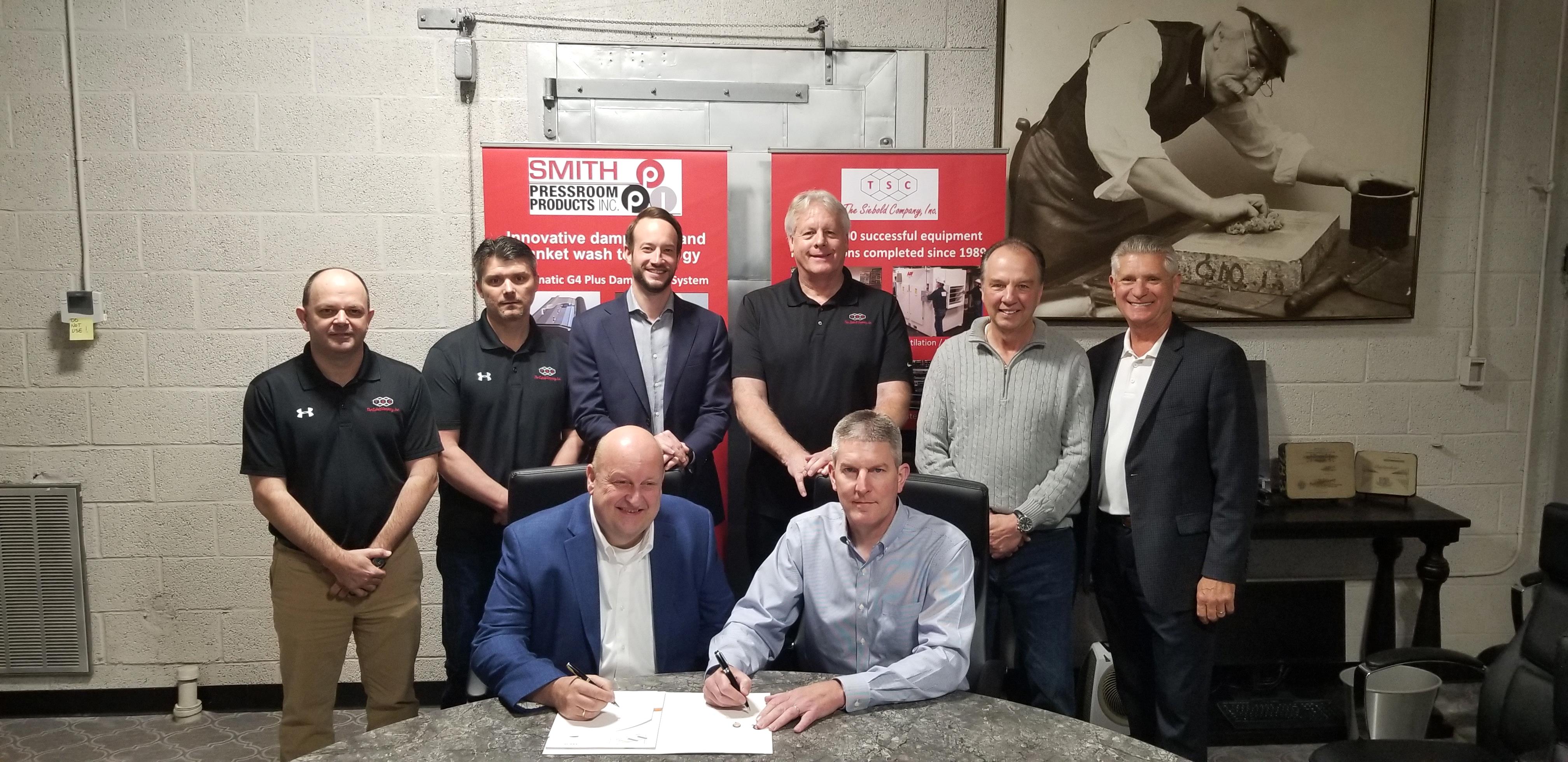 Signing the Q.I. PRESS CONTROLS & EAE Authorized Distribution Agency Agreement are QIPC-EAE Americas Managing Director, Ronald Reedijk and TSC VP of Corporate Development, Chris Miles. Standing L-R: TSC Parts & Service CSM Brian Roach, TSC VP Press, Parts & Service Eugene Albright, QIPC-EAE Head of Sales Erwin van Rossem, TSC President Jim Siebold, TSC SVP Richard Palmer and TSC VP Sales & Marketing Bruce Barna.